Papers & Presentations by the JDB1745 Team
Civil War on a Loyalist Estate in the '45
While the widespread campaign of terror waged by the British government in the Scottish Highlands after Culloden is well documented, few such depredations are known to have occurred in the Lowlands, especially in areas thought to be loyal to George II. Likewise, incidents of fire and sword instigated by the Jacobites themselves are largely glossed over by many scholars of the subject. During and after the campaign of 1745-6, the Duke of Montrose's Stirlingshire estate provides a unique example of both traumatic incidents. This paper examines the lives of the tenants of the second duke and his factors who were repeatedly harassed and threatened by rebel soldiers under Macgregor of Glengyle because they would not join the rising. After Culloden, the King's troops then billeted upon the estate and punished numerous tenants by burning their homes and stealing their livestock even though many had not been involved and in fact had actively resisted the Jacobites. Through a trove of primary sources that includes the depositions of witnesses carried out on the local level, records of material damages, and personal correspondence between government officials and factors on Montrose's estate, an indelible image is drawn of the common people who were caught between two unfavourable sides of a brutal civil war.
Presented at:
Scotland: Communication and Conflict

Scottish Society for Northern Studies Day Conference

Augustine United Church, Edinburgh

Saturday, 21 November 2015
4th Jacobite Studies Trust Conference

University of Ireland, Maynooth

Saturday, 1 July 2017
'The Consequences of Such Undeserved Mercy'
Contrariety Policy and the Suppression of the '45
The Great Rising of 1715 was significantly larger and potentially a greater threat to the Hanoverian regime than its more fabled successor in 1745. Yet government measures concerning both punishment and prevention were hampered by the ambivalence of a fledgling administration concerned about its reputation in the public eye. Though a programme of trials, executions, transportations, and attainders was established in the months after Preston, it was tempered with a measure of clemency that in effect failed to destroy Jacobitism at its roots. As a consequence, especially in Scotland, where too little was done to suppress further rebellion, the traditions of Jacobite ideology were able to germinate, once again coalescing into a potent rising thirty years later. This paper examines the government policies implemented after the '15 and how their relative mildness led to an extension of Jacobitism as a serious threat to the British state. This leniency would not be repeated again after the '45, but the government's wish to be seen as simultaneously firm but fair remained nonetheless present.
Presented at:
Lecture for the 300th Anniversary of the 1715 Rising

National Trust for Scotland & UHI Inverness
Culloden Battlefield & Visitor Centre
Friday, 24 October 2015

(co-presented with Dr Kieran German)
'Tis Pity Men Like These Deserve the Gallows
A Toast to the Royal House of Stuart
[Excerpted] "It is important to remember that the people who existed in the 18th century, alive and aware during that incredible stretch of continuous flux, establishment, and progressiveness – especially in Scotland, a nation 'crowded with genius' – these people rode the wave of change just like we do today. They lived and they loved and they bled, and they tried to get by as best as they could in a complex political environment – card-carrying Jacobite or not. And necessarily, this leads us to the ever-persistent question: what was a Jacobite?

Before we speak about Jacobitism like a museum exhibit safely tucked behind glass with an informative plaque for us to antiseptically ponder, it is vital that we look to the minutia – the small stories in between the large ones that form the meat and bones of the movement. They cannot be discounted and should not be overlooked, and how they reflect our struggles today only goes to reinforce the fact that, despite the undercurrent of great change in our own time, all of us are simply trying to get by as best as we can."
Presented at:
1745 Association Gathering 2014

Strathburn Hotel, Inverurie, Aberdeenshire
Saturday, 13 September 2014
Something Rotten in Auld Reekie
Suspicion, Allegation, and Mania in Post-Jacobite Edinburgh, 1746-7
Through the settling miasma of the failed, final Jacobite rising, Scotland's capital set about returning to business as usual. But a closer look at the web of evidence given to government officers when turning in suspected Jacobites reveals an undeniably anomalous pattern of accusations by a select number of Edinburgh's merchants specifically targeting other merchants of the same trade. Prosopographic analysis of Edinburgh's accused rebels using The Jacobite Database of 1745 has shown evidence of possible skullduggery within the city's goldsmith community. Further investigation of Jacobite trial depositions, burgess records, and burgh court records is necessary to determine whether the social and fiscal unrest of rebellion provided a fertile environment for Edinburgh merchants to take advantage of the market by eliminating or slandering the competition. This paper will explore these themes, as well as chart the convoluted pattern of accusations to understand the atmosphere of suspicion within the Edinburgh business sector post-Culloden.
Presented at:
New Directions in Jacobite Studies
Institute of Historical Research, London
Tuesday, 20 August 2013
Such Cryptic Warp and Weft
An Introduction to the Jacobite Database of 1745
This paper is an introduction to a new codification of the Jacobite record. Utilising a modern and acutely-designed online database to compile and document the constituency of the Jacobite movement during the rising of 1745-6, the goal of this project is to create an effective collaborative research tool for all scholars of the period. The creation and maintenance of this database is the centrepiece of this doctoral research project, which will yield a large number of cultural, social, religious, political, economic, and military topics about Jacobite constituency. Designed specifically for the purpose of scholarly examination and prosopographic analysis of a large number of biographic entries, and drawing from a wide variety of sources, JDB1745 will eventually house every name that can be associated with Jacobitism in the years 1740-1759. In effect, this database hopes to offer its users an accurate biographical, social, and cultural atlas of the Forty-five.
Presented at:
Institute of Scottish Historical Research Reading Weekend

Stroove House, Skelmorlie
Saturday, 3 March 2012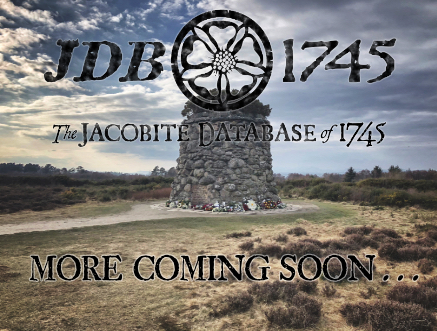 Digital Humanities & Technology Presentations
Getting Ready for Your First Blind Data
Objectivity and Structure in Prosopographical Databases
A joint presentation between Halsted and Darren,
this paper serves as an introduction to and a discussion of some of the core aspects of JDB1745 and how it was designed. We focus on some important facets which are sometimes overlooked or underprepared by researchers, coders, and data-gatherers alike: how to think about and structure information before it even makes its way into your project. Halsted also shares details about the model that we have designed to create the bones of JDB1745 and why it is different to what we have seen out there so far.

We then shore things up by explaining authority records and how they are absolutely essential to the organization of your data, addressing perhaps the most onerous aspect of historical study: ambiguity.
Presented at:
Mapping Flows & Visualising Data in the Era of Digital Humanities
Centre for Transnational History
University of St Andrews, Scotland
Friday, 29 August 2014

(co-presented with Halsted M. Bernard, MLIS)
The Battle for Open Access
This presentation was given at the 2013 Institute of Scottish Historical Studies Reading Weekend to explain the truths and myths of the extremely relevant and hotly-contested topic of scholarly Open Access in both the Sciences and the Humanities, while also serving as a brief survey of the current state of OA within the global university system and beyond.

It is meant to cut through some of the politicking and misinformation that muddies the issue in the popular media, and offers the audience some idea of what all the fuss is about so individuals can make their own decisions about the movement and its arguable value in furthering our disciplines.

Arguments for and against different types of OA are outlined, with descriptions of the scholarly publishing cycle, the Research Councils UK's place in it, and how the REF is cyclically supported both by the proceeds from scholar-side article processing charges and the institutional subscriptions that are foisted upon university and public libraries. Also included are discussions about how prestige and impact are manufactured and how altmetrics can shed light upon and reshape how we view the entire publishing and engagement process.
Presented at:
Institute of Scottish Historical Research Reading Weekend

The Burn, Glenesk, Brechin
Saturday, 13 April 2013
Evernote and Zotero for Historians
"In short, Evernote is a total solution for digital organization, which naturally makes it a very effective tool for modern historians. Think of Evernote as a multimedia repository that you can set up any way you like.

It handles any types of files you can think of, and it lets you get to them when you need to, in any way you're most comfortable with. The more you put in it, the more useful Evernote gets. It becomes your own personal library of digital media."

This short presentation introduces the basics of what the Evernote platform is about and how scholars of the Humanities can easily benefit from it. Numerous live-use case studies are illustrated, covering workflows including: preparing for an archival visit with syncable checklists, uploading digital images to notebooks and keeping them organized, transcribing archival documents right within the app, and how to find exactly what is needed using the robust search capabilities of Evernote.
Presented at:
Research Tools and Outputs for the 21st-Century Postgrad

Early Modern & Modern History Postgraduate Forum
University of St Andrews, Scotland

Monday, 6 October 2014

(co-presented with Halsted M. Bernard, MLIS)
A Basic Methodology for the Digital Humanities
"The intention of this brief fly-over survey of methods for the Digital Humanities is simply to provide you with a basic understanding of its existence and scope - what DH is, what it looks like, why it might be important or helpful for your studies and research, and generally, what all the hype is about.

You might even already be a Digital Humanist and not even know it. (Don't worry; it's not catchy like a superbug, and it doesn't prevent one from also being a solid traditional historian.)

We will be addressing what the discipline consists of, including media and display, outreach and promotion, and pedagogy and process. We will also be looking at some existing DH projects, as well as a few excellent productivity tools that might make your historical research more organized and effective.

In twenty minutes or so, I hope you'll be a bit clearer on judging if these digital methods are right for you, and if they might help you in our shared quest to be productive and well-rounded historians."
Presented at:
Modern History Postgraduate Forum

University of St Andrews, Scotland

Wednesday, 8 May 2013